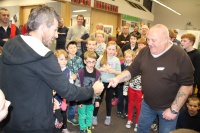 JOIN UP WITH OTHER BLOKE'S FROM THE BITTERN PRIMARY SCHOOL COMMUNITY
Have a sensational couple of hours letting your children share some fun activities with you whilst strengthening the connections you have with other blokes in the Bittern community.
A great chance to catch up with others, share a laugh or even establish some connections and networks that did not previously exist. Who know's, you may find a connection that benefits yourself whist building our local community and strenthening the bonds at Bittern P.S.
 The night starts at 6.00pm and should be concluded by 7.30pm.
Activities include;
Guess who? Find the matching person
Rock Paper Scissor tournament
Sporting videos
Music/General Trivia
Paper plane competition
Table tennis, put put golf, cup stacking and much more ...
Tickets - $10 entry for adults and  children are fee.
Meals - A light dinner will be provided (sausages) and can be pre purchased on registration for $2 each. Please indicate on registration the amount of sausages you will require for catering purposes and this will be added to the total ticket cost. Drinks will also be available for $1 each and can also be indicated on registration. If you do not indicate on registration, there is a chance of missing out as we will use these figures for accurate catering.
Discounts - An Early Bird discount offer exists of a $5 ticket price for the first 5 people registered online
Promoter - discounts also exists if you do a group registration of 3 or more people (including yourself), making your ticket free. Bring a relative or another friend if you like. Just make sure you enter the coupon code of bittern2014 upon registration
Bring gold coins - for the raffles and some fantastic prizes to be won.
What is the 'Bloke Project'?
The Bloke Project' views male connectedness and sense of purpose as essential elements in men's overall health. It aims to build a platform that actively coordinates and facilitates these elements. It has been shown that a single good friend can make up to a 10 year difference in life expectancy. Lonliness accelerates age related declines in cognition and motor function. The male deficit model holds that males and their friendships tend to drift apart whenever the activity they share (football, surfing, school, uni etc) ends. Bloke Nights are a localised tonic for this model. 'The Bloke Project' runs other male based shared experience events such as RAM (Reactivate A Mate Alpine 2014) so jump on board and have a look.
Why do we have to register online through a website that is not the school's website?
Bittern PS has utilised the services of 'The Bloke Project' to run the night. Besides having a specific mission to promote male health through connectedness, 'The Bloke Project' has the tools to run the night and the registration via the web site decreases the administrative burden on the school whilst allowing seamless payment, registration and numbers, group discounting and ability to add catering and other requirements. Quite simply, Bittern PS can have a community night without the associated logistical, advertising, labour and cost efforts.
Please register below as an individual or group and make it a fantastic night! You may even like to use the invite a friend tab for someone you know.